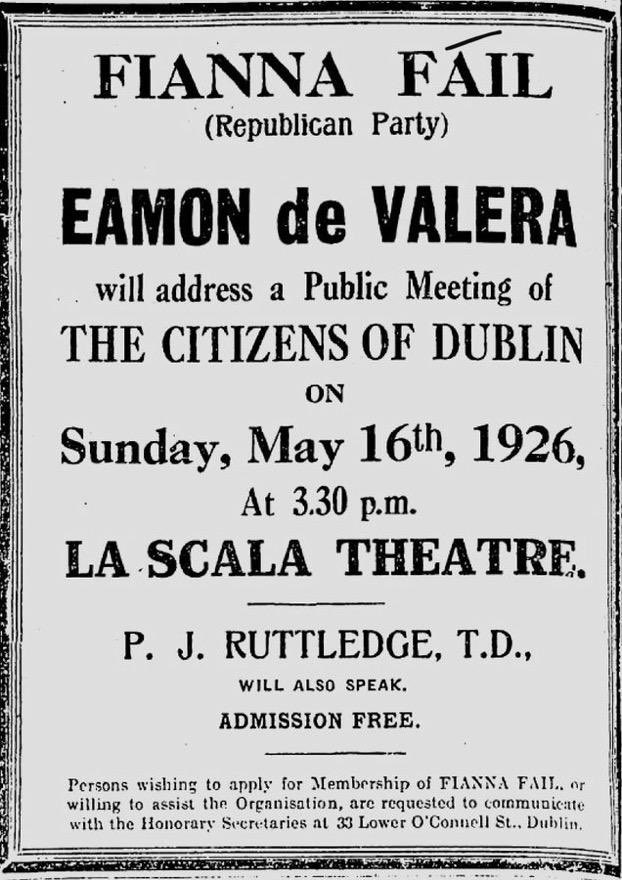 It was visionary, idealistic, and committed men and women who founded Fianna Fáil, in the La Scala Theatre, Dublin, in 1926, under the leadership of Eamon de Valera. What followed was a momentous national movement encompassing the ideals of a united Ireland, social and economic advancement, and equal opportunities. Fianna Fáil entered government for the first time in 1932 and in 1937 the Irish people ratified Bunreacht na hÉireann, the Irish constitution.

Fianna Fáil, under the leadership of Seán Lemass, implemented the First Programme for Economic Expansion which opened up our economy, encouraged foreign direct investment and set our country on a path of economic advancement.

The education and welfare of Irish people has always been a core value of Fianna Fáil, this is highlighted by the introduction of free secondary education in Ireland in 1969 by Donogh O'Malley, Minister for Education and by the introduction of the Free Travel Scheme for our older citizens in 1967 by Charles Haughey, Minister for Finance. This scheme continues to this day and is enjoyed by thousands of Irish citizens.

In 1973, under the leadership of Jack Lynch, Ireland joined the European Economic Community (EEC), further progressing our economy and establishing a strong and lasting bond with our European neighbours. In 1987, spearheaded by Charles Haughey, the International Financial Services Centre (IFSC) was established laying the foundations for future economic growth and development.

In 1993, the Joint Declaration on Peace (The Downing Street Deceleration) was negotiated and signed by Albert Reynolds on behalf of the Irish Government. This established a pathway for peace on our island. In 1998, through the commitment and dedication of Bertie Ahern, amongst others, a peace agreement was reached, the Good Friday Agreement. Brian Cowen, as Minister for Foreign Affairs and as Taoiseach, continued our party's dedication and commitment to peace on our island.

The education and welfare of Irish people continues to be a core value of our Party. Throughout his career, An Taoiseach Michéal Martin, has stood by this core value. Whether it is on supporting those with special educational needs or safeguarding the health and wellbeing of our population he will not be found wanting. The focus of our Party in Government remains to deliver a fairer Ireland for all.