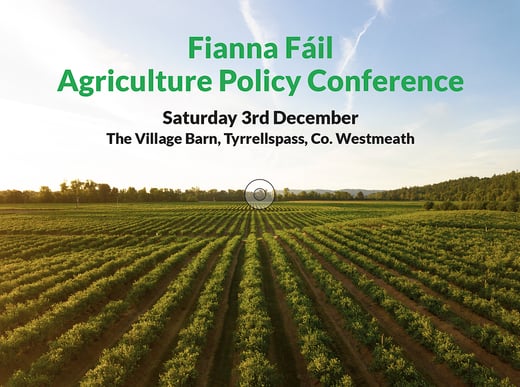 December 2022
Fianna Fáil Agriculture Policy Conference
Fianna Fáil will hold an Agriculture Policy Conference on Saturday 3rd December in The Village Barn, Tyrrellspass, Co. Westmeath, to examine the future of our oldest and largest indigenous sector.
Please note, there will be further events added.
For any information and updates, please check the weekly Party Bulletin. You can sign up for it at www.fiannafail.ie or email bulletin@fiannafail.ie. or contact Party Headquarters on 01 676 1551.
Fianna Fáil Women's Network celebrates International Women's Day in Wood Quay, Dublin. (March 8th 2022)
Members of the Fianna Fáil Womens' Network gathered on March 8th in Wood Quay Venue to celebrate International Women's Day. Panelists, An Taoiseach Micheál Martin and Dr Aoibhinn Ní Shúilleabháin, joined Senator Fiona O' Loughlin to discuss the 'Breaking the Bias' theme and barriers which exist in Irish society and how these may be overcome. A particular focus was placed on breaking the bias in the workplace and in academia, with valuable insight into these challenges being central to the conversation. Members contributed from the floor about experiences facing bias in a variety of fields, politics largely central to insights from contributors. President of the FFWN, Laura Reid Costello, joined us and shared her views on bias as a former local election candidate. The Ukrainian Ambassador, Gerasko Larysa, joined us to share updates and perspectives on the Russian Invasion in Ukraine and the event closed with a rendition of the Ukrainian National Anthem by the Ukranian special guests in the audience.