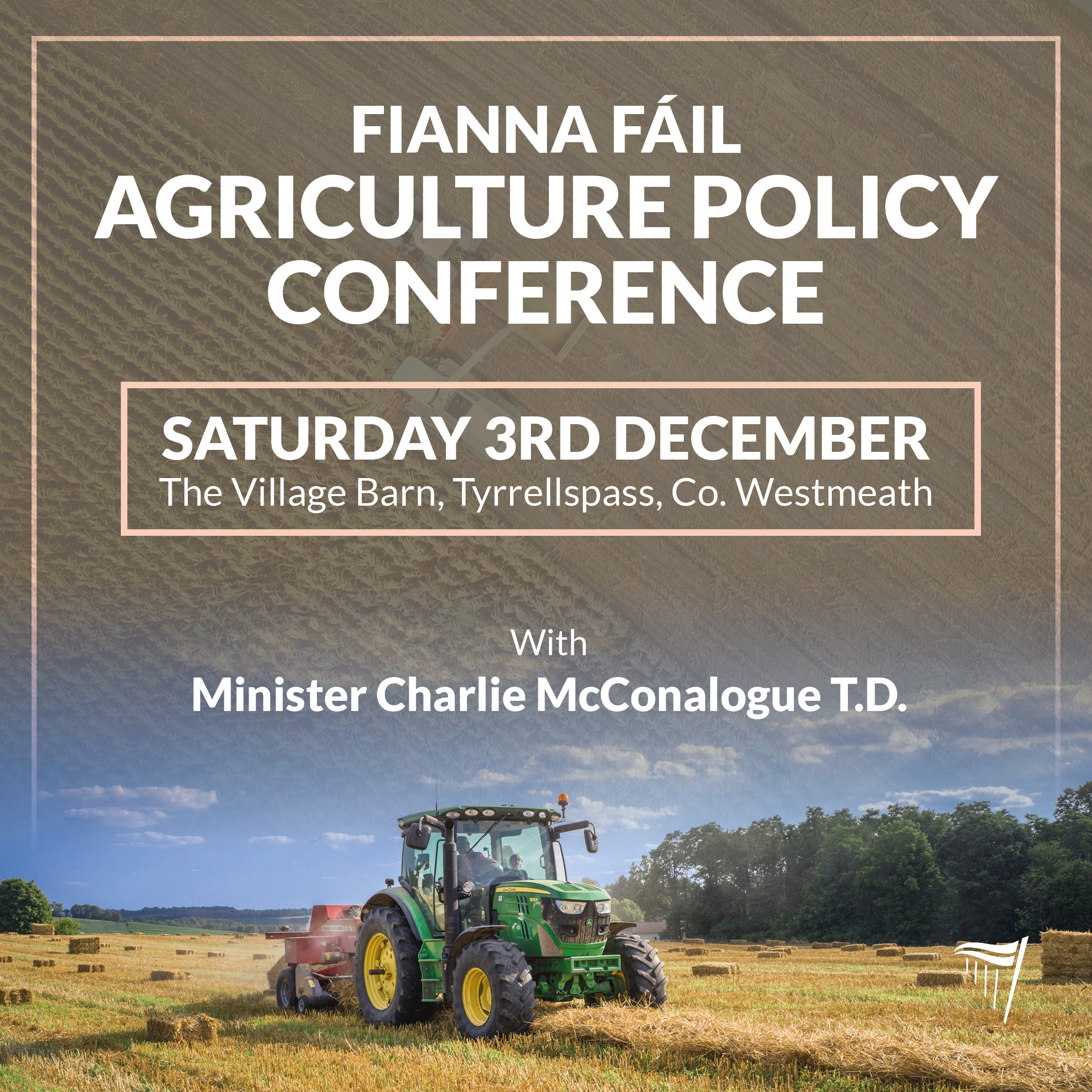 Fianna Fáil Agriculture Policy Conference
The Village Barn, Tyrrellspass, Co. Westmeath
Saturday 3rd December 2022
10am-1pm
Fianna Fáil will hold an Agriculture Policy Conference on Saturday 3rd December in The Village Barn, Tyrrellspass, Co. Westmeath, to examine the future of our oldest and largest indigenous sector.
With the next decade set to be a defining one for agriculture and food, Minister Charlie McConalogue will host the conference which will step us through how key policy areas and trends will shape the agri-food sector. The Conference will give members the opportunity to feed into policy and discuss and debate the topical issues.
Starting at 10:00am,there will be a number of expert panels with guest speakers and party spokespeople. Refreshments will be provided on conclusion at 1pm. All members are welcome, please register for free using the form on this page.
Panels:
The Common Agricultural Policy and what it means for your farm
Chair: Senator Paul Daly
Keynote: Dr Kevin Hanrahan, Panellists: Minister Charlie McConalogue TD, Jackie Cahill TD, Niamh Smyth TD, Senator Lisa Chambers
The future of farming and our global reputation
Chair: Robert Troy TD
Keynote: Jim Woulfe, Panellists: Minister Charlie McConalogue TD, Senator Erin McGreehan, Senator Eugene Murphy
Panellist keynote speakers:
Dr Kevin Hanrahan
Head of Rural Economy and Development Programme at Teagasc
Dr. Kevin Hanrahan leads out on Teagasc's rural economy and development policy. Dr Hanrahan has a strong record of conducting crucial research and economic analysis related to agricultural policy, including on the Common Agricultural Policy, international trade and the Irish beef sector.
He has presented at numerous academic and non-academic congresses, conferences, seminars and symposia and written national reports which have been important in the process of Irish agricultural policy change over the last 20 years.
Dr Hanrahan has BA in Economics and an M Litt both from Trinity College Dublin.
Teagasc is the State's integrated agriculture research, advisory and education agency. It carries out cutting edge and independent research before disseminating it out to primary producers.
Jim Woulfe, Former Chief Executive of Dairygold
Jim Woulfe retired as CEO of Dairygold Co-operative in December after 42 years' service at the co-op. Dairygold is a leading global Agri & Dairy company with locations in Ireland, UK, Germany, Spain and China employing 1,275 people directly and with a turnover of €1.02 billion, has c. 7,000 shareholders and is the country's second largest dairy co-op processing 1.49 billion litres of milk annually from its 2,700 milk producers.

Jim has worked in the agri-food sector throughout his career. A UCC Dairy Science graduate, he joined the milk processing division Ballyclough Co-operative in 1979 (subsequently merged into Dairygold). He was appointed as Chief Executive in 2009 having previously held many leadership roles in the Co-op.
The Dairygold business has grown substantially from a turnover of €555m and profitability of €8m in 2009, to a turnover of €1.02 billon and profitability of €26m in 2020.
Jim is a member of the boards of Enterprise Ireland and Bord Bia.